Players travel to Highlands for baseball
Syracuse's John McClure pitches for Highlands as a warm-up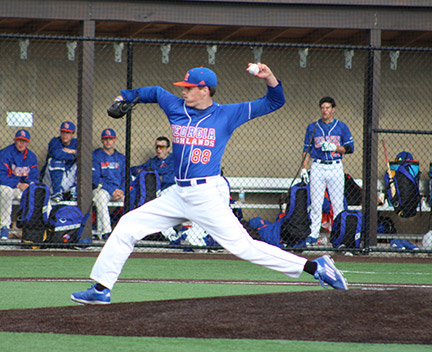 John "Jack" McClure is from Syracuse, Ny. He was originally scouted by Coach Marra to join the Georgia Highlands Chargers but decided that he wanted to stay close to home.
McClure attended a Division I school, St. Bonaventure University in New York, where he played a couple of years as a St. Bonaventure Wolf. However, McClure felt that his health and overall performance were suffering due to the frigid temperature of New York.
He decided that moving down south would be his best path to reaching his top level of fitness. He was then recruited by Coach Marra and joined the Georgia Highlands Chargers.
When asked what the difference between playing for a D1 school and now playing for the Chargers was, McClure said that, "the level of some of the teams we play is similar except that in New York we played those types of teams a bit more regularly."
Moving down to Georgia was for the most part easy for McClure. However, he did experience some homesickness. He missed being able to travel home on his time off to see his family.
After being in Georgia for a while, McClure was able to get back to the level of play that he was unable to display in New York. He had a great performance against one of the team's biggest rivals, Walter State. Unfortunately, in that same game he injured his elbow. Due to that injury McClure has been out since Feb. 14 and is currently in recuperation.
McClure has goals to reach a DI school and continue his baseball career. He knows that the Chargers have a tough season and is hopeful to be back in action before the end of the season. "I want to be back on the field and help the team win some titles," said McClure regarding his goals at Georgia Highlands.
Bryan Quillens pitches in from New Orleans, La.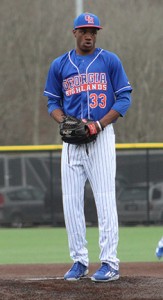 Bryan Quillens, pitcher for the Georgia Highlands Chargers, has overcome several obstacles in pursuit of his goals of playing baseball.
Quillens was originally from New Orleans, La. and lived there until his fourth grade year of school. His time in his home state was cut short due to the destructive Hurricane Katrina that hit in 2005.
Like most of the people affected by the hurricane, Bryan's family lost everything they owned. After the hurricane, the Quillens family had to relocate.
The family decided to move to Austell, Ga. They were able to move in with one of Quillens' aunts and lived with her for four months while they got back on their feet.
Quillens continued his education in Georgia. He would again face adversity when he was cut from his baseball team his freshman year of high school.
"My dad encouraged me to keep playing baseball and did not allow me to give up," said Quillens when recalling how he was able to stay motivated and continue his baseball career.
Quillens was scouted by Georgia Perimeter right out of high school. He would become the first of his generation, on both sides of his family, to go to college.
He played with Georgia Perimeter in the fall. However, with the closing of the baseball program, Quillens was left looking for other options. That is when he was recruited by Coach Marra.
Quillens said, "The baseball program is a great program especially when you consider how new the program is and how much they have accomplished." He believes that playing for the Chargers has helped open up doors for him to continue to play baseball at a higher level in the near future.