Eight GHC students visit Italy over summer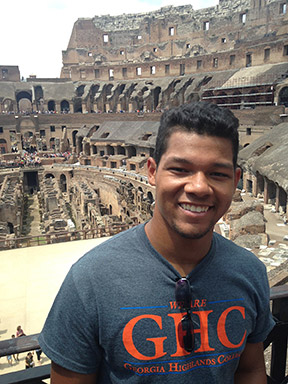 Eight GHC students, plus 28 from KSU and UGA, participated in a study abroad trip to Italy on June 23 through July 24. Classes were held in the medieval fortress La Fortezza in Montepulciano.
Out of nine classes offered, students were required to take two. Jon Hershey, dean of humanities and professor of English at GHC, taught world literature and creative writing.
"This particular study abroad experience is unique because it lasts over a month in one town—Montepulciano. The students and faculty become a part of the life of the town, and we get to know the residents well. We learn what life is like there," said Hershey.
Students took day trips to Pisa and Siena, as well as overnight trips to Rome and Florence. They were also welcome to visit other cities on their own during the weekends.
Eriq Colon, a graduate from the Cartersville campus who now attends UGA, and some of the other students played soccer with some of the local kids in Montepulciano. "It was the perfect way to immerse oneself into a culture that was foreign to our own," he said.
"As we played we all got to a first name basis with most of the kids. However, I didn't just get to know the locals more, but I got to know the students on the trip more as well. You would laugh with the kids as you tried your hardest to dibble pass them, to no avail," said Colon.
Bronson Long, director of global initiatives and study abroad at GHC, says that although students may learn about culture in the classroom, traveling to another country is a unique experience. "If you really want to learn it firsthand, the best way is to go there," he said.
"Any kind of travel is an education," Hershey said. "But to be able to teach Dante in Italy and then visit the city that was his birthplace and inspiration, there is no teaching experience that can compare to that."
The details for next summer's study abroad trip to Italy are still being worked out. Hershey knows that the price of the trip isn't cheap, but he said that students interested "should look to see if it might be possible."
Hershey indicated that there are scholarships available for study abroad. He also said that students have time to set money aside if they start now. "It is worth the money, without a doubt," he said.