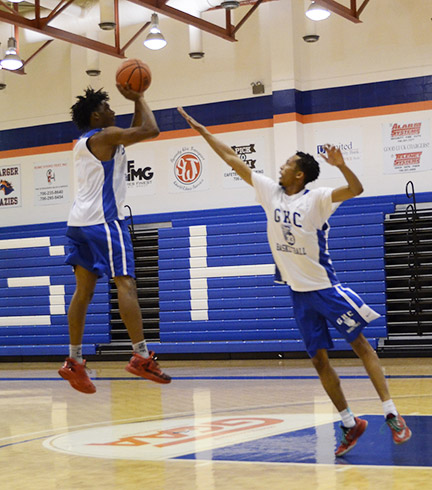 Phil Gaffney, GHC athletics director and head men's basketball coach, believes that this upcoming season's team could be the best yet because it is a fully developed and gifted team. It is also the oldest team that he has ever coached.
Ty'lik Evans and Kyvon Davenport are the only two returning players from last season, but that is not a concern for Gaffney.
Evans and Davenport were both nominated for GCAA Division I Freshman of the Year last season, and Evans won. Davenport finished right behind him.
There are 10 additional players, and four of them—Ty Cockfield, Rico Bonds, Donovan Ham and D'Andre Bernard—are transfers from NCAA Division 1 universities.
Gaffney's only concern for this season is that the Chargers will be ranked highly in the NJCAA poll. He said it creates a lot of pressure to be ranked so highly.
Gaffney came to GHC in 2011 as athletics director and became the men's head basketball coach in the 2012-13 inaugural season.
The Chargers did not win a game during that first season but bounced back quickly with a 16-16 record for the second season.
The Chargers had their best season to date last year with a 33-2 record.
The Chargers won the NJCAA Region 17 title for the second year in a row, and they made their second appearance at the NJCAA national tournament.
The GHC Chargers' home opener will be on Friday, Nov. 4, as part of the GHC Classic at 7:30 p.m.