GHC Cartersville hosts art exhibit
Carly Trader Staff Writer
October 25, 2016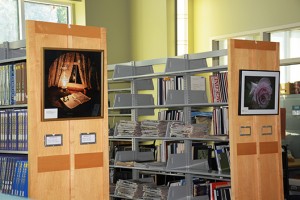 The library at the Cartersville campus normally plays host to students taking classes, working on assignments, finishing homework and studying.
But over the course of the past several weeks, there were works of art from the Booth Western Art Museum on display in the library, courtesy of artists Pat Stephenson and Liz Gentry.
Fifteen pictures were hung throughout the library, all available for sale in the original frames or in smaller prints.
Though the exhibit closed at the end of September, the impact of these works still remains.
Both students and staff alike were excited to be featuring these pictures at the Cartersville campus.
The pictures contained several medias and themes, including western, sculpture, Americana, and even a picture on the United State's presidential history.
Leslie Johnson, Cartersville campus dean, said she especially enjoyed the pictures of the two child ballerinas. "They remind me of my twin daughters when they were in ballet as little girls," she said.
The Booth Western Art Museum is located in downtown Cartersville. Tickets range from $7-10, and events are held regularly.
According to the museum's website, it is the second largest art museum in Georgia, and "the only museum of its kind in the Southeast."
Stephenson and Gentry have extended the invitation to contact them by email or phone for any questions about purchasing their artwork.
Stephenson may be reached by phone at 770-386-4085 or 770-300-6047 or through email at [email protected]
Those who wish to contact Gentry may do so at  770-387-7235 ext. 7235 or at [email protected]