Intramurals open to anyone at GHC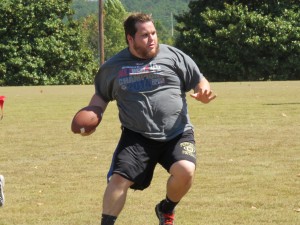 Intramurals are extracurricular activities in which all GHC students, faculty, and staff can participate regardless of how fit they are. Most intramural activities take place at the Floyd or Cartersville campus.
Co-ed basketball, co-ed flag football, a tennis tournament, and the Turkey Day Walk & Run are some of the intramural activities that are offered during fall semester. Soccer, corn hole, and a ping-pong tournament are offered in the spring.
J.J. Merritt, Floyd campus intramurals director and assistant men's basketball coach, said intramural activities that are underway, such as the co-ed flag football, are going "well." Participation is about the same as in previous years.
Merritt said that he would like to see intramural participation grow but also noted there are several factors that influence why it has not.
Some intramural activities at the Floyd campus take place in the gym.
Physical education classes and the men's and women's basketball teams also use the gym. This requires intramurals to work around those schedules, sometimes creating inconvenient times.
GHC also has many non-traditional students. These students have work and school schedules that do not allow for intramural participation because these activities are typically offered earlier in the day.
There are also students who do not know about intramurals.
If you would like more information about intramurals or would like to participate in an activity, contact Merritt at [email protected] or visit www.imleagues.com/ghcintramurals.