Tommy John throws wrench in Geekie's first full season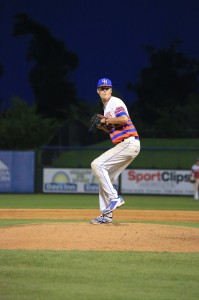 Two seasons have passed since Dalton Geekie last tossed a fastball for the Georgia Highlands Chargers. Since Draft Day 2015, his journey through the Braves system landed him on the 2016 Opening Day roster of the Rome Braves to begin his first full year of professional baseball.
The GHC coaching staff put Geekie in the right situations to shine for professional scouts, and when the time came, Geekie's raw local talent caught the eyes of Braves scouts.
His first full season was going well with the Rome club, tossing 45.1 innings in the South Atlantic League. But during his Aug. 1 start, after some elbow discomfort in the earlier weeks, Geekie's arm popped. However, he "didn't think anything of it." On the next pitch, his elbow began hurting, and he was removed from the game. The next day, Geekie knew he was going to need Tommy John Surgery.
Geekie is currently at the Braves facilities in Kissimmee, Fla., rehabbing from his surgery. The recovery time for this surgery varies from 12 to 18 months. Geekie will begin throwing to live hitters again this time next year at the Instructional level in Kissimmee.
Geekie may have hit a bump in the road this season, but expect him to come back with the same roaring enthusiasm Chargers fans saw during his collegiate days.