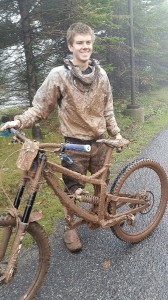 Georgia Highlands student and cyclist Owen Witcher recently competed against students from across American the Collegiate National Championship in Snowshoe, W. Va.
In the downhill event on Oct. 22, Witcher finished in 10th place of the 50 riders in the field and finished 10th out of 39 in the following day's dual slalom event.
Having competed in only two qualifiers and national championship events, Witcher's efforts were enough to put GHC in 11th place in club team omnium.