Floyd adviser Eileen Walker set to retire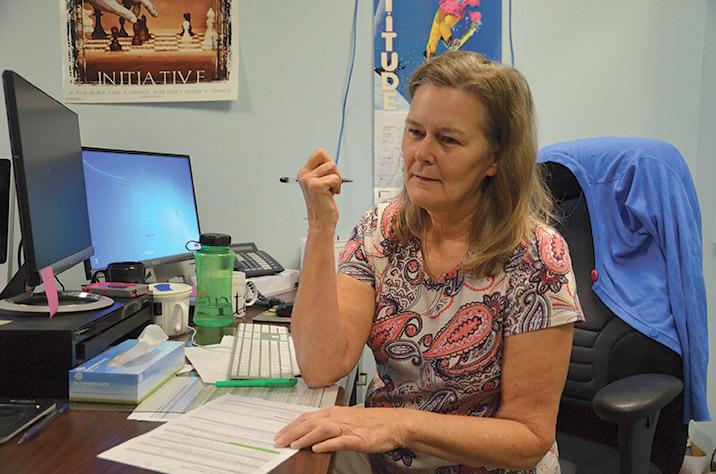 Eileen Walker's career at GHC has spanned decades. She has been an instructor, worked on special projects and most importantly, to her, advised thousands of students. Now she is retiring, and January 31, 2017, will be her last day with GHC.
Walker became the official adviser for the entire college in 2001. However, she has been advising students her entire career.
She began her career with the college in 1980 as a part-time criminal justice instructor.
She said, "I began advising students then because I had a captive audience."
By 1989 she was teaching 50 minute criminal justice courses since the college at that time operated on the quarter system.
In 1992 she officially began advising but only part time so she could "actively support" her children in their school activities. By 2008 Walker was advising full-time, both in-person and remotely, for all campuses.
Walker said her favorite thing about her job is "advising people who have become great representatives of the college and advising family and relatives." She said, "It's an honor to have that trust."
She believes the most important part of her job is listening.
Walker said the most important piece of advice she can offer students is to "find a job you can't wait to get to on Monday; do what you love." She said the best way to figure this out is to "take one class to find out your strengths, passion and joy and have a plan B."
When asked what prompted her to retire now, she said, "I'm retiring now because advising at GHC is in a good place."
The number of advisers has increased from one to eight in only eight years and is continuing to grow. There is now at least one professional adviser on each campus and advisers for e-learning students.
Walker said, "Advisers are looking for new ways to reach students." She said, "We want to make sure students are taking the correct classes for their major and to help them get to where they want to go."
It is clear when talking with Walker that she is very passionate about advising students and ensuring that more advisers are accessible to more students on all campuses.
Mason Driggers, physical therapy major, said, "She knows what she is talking about for sure and is very insightful."
After retiring, Walker will be helping more to care for her parents, spending more time with grandchildren and riding around town on her bright yellow bike every day.