King is new GHC financial aid director
Melinda Ewers King is the financial aid director for Georgia Highlands College.
A Cedartown native, King has been part of the GHC family as both a student and employee since 2004.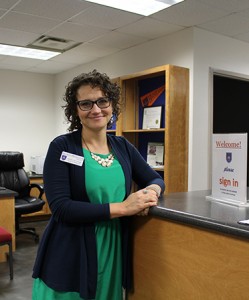 While completing her associate degree at GHC, she worked as secretary for the Counseling and Career Services Office. After finishing her degree at GHC, King worked as orientation coordinator for GHC while completing her bachelor's degree in business at Shorter College.
After graduating from Shorter, she was hired as a financial aid counselor with GHC in 2010. She assumed her current position Sept. 1, 2016.
Todd Jones, vice president of student affairs, said, "It's exciting to hire someone internally. Melinda is highly capable at overseeing financial aid."
Some of the responsibilities of the financial aid director are to ensure GHC follows all state and federal laws and regulations in awarding financial aid properly and making sure students are educated about the responsibilities of receiving financial aid both while in school and after graduating.
King said some of her favorite things about working in financial aid are "counseling and working with students to help them map out a financial plan to reach their educational goals and to promote financial literacy."
According to King, the financial aid department will be offering workshops to help educate and bring awareness to students throughout the year.
Some of the workshops planned cover topics such as responsible borrowing, gaining and maintaining eligibility, FAFSA, saving for degree completion, scholarship options, repayment and budgeting after degree completion and more.
When not at work, King enjoys her family and farming. She and her family have chickens and maintain a large garden. They are in the process of creating an "edible forest."
Being self-sufficient is something that is very important to her. She said, "It's very satisfying to know that sometimes your whole meal is from the things you produced yourself."