Costume wiffle ball breaks out at Cartersville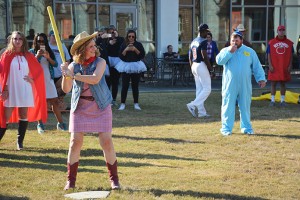 For Halloween, the baseball and softball teams had a competition of wiffle ball while sporting an array of costumes.
Dean of Natural Sciences and Physical Education Gregory Ford and Cartersville Campus Dean Leslie Johnson, both participated in this Halloween intramural activity.
Associate Communication Professor Travice Obas and Biology Professor Sharryse Henderson cheered from the sidelines while enjoying the game.
Softball and baseball players opposed fellow teammates in this game of wiffle ball. Some participants contributed to laughs as they tried to keep their attire in place.
Throughout each exchange, each team tried to hit the ball with extremely small bats.
Some aimed far and high, and others went for a more deceptive hit. Obas described the game as enjoyable to watch, and Ford said it was "absolutely fun."
Melissa Wood, head softball coach, remarked with a laugh that the temperature was not ideal for her full body T-Rex suit.
Softball team members Natalie Pedersen and Evan Hall mentioned that it was great for baseball and softball to bond. Dash O'Neill, head baseball coach, said, "It was a great opportunity for each team to do something together and develop a support for one another."