Green Highlands promotes sustainability
"Environmentally friendly" (also known as "eco-friendly" and "nature friendly") are terms used to refer to goods and services, laws, guidelines and policies claimed to inflict minimal or no harm on the environment.
From Earth Day celebrations, Fall Frenzy and Spring Fling, to the Locks of Love Hair Drive, a National Arbor Day Tree Planting Ceremony and even the recycle bins throughout all of the GHC campuses, Green Highlands strives to create as much of a green environment as possible for the students and their surrounding environments.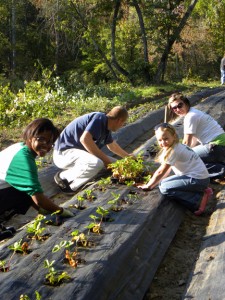 Green Highlands is a student organization at Georgia Highlands College led by Biology Lab Coordinator Devan Rediger and Communications Lecturer Alexandra MacMurdo.
The goal of Green Highlands is to educate its members and other students about the environment by organizing events that help promote sustainable lifestyles and inspire students to keep GHC green and clean.
Green Highlands is open to all students who are interested in making a difference. Tatiana Smithson, president of Green Highlands said, "We want students to realize the connection to earth in their everyday lives." Club members make friends and engage in student-led activities that educate and promote fun on campus.
Some of the activities and events that Green Highlands has hosted in the past are Paris Lake & Wetlands Beautification Project, Spring Green Service Trips, Community Garden, CelEARTHbration, Re-useable Shopping Tote Promotion, Relay For Life Events and fundraisers.
Students interested in learning more about Green Highlands, should send an email to [email protected]
One of their recent projects was to go out to Associate Professor of Geology Billy Morris's Certified Naturally Grown farm and harvest vegetables. Smithson said, "It was a really great experience to be able to go out to Morris's land and pick your own vegetables and put them directly into a salad."