Alumnus prospers after graduation from GHC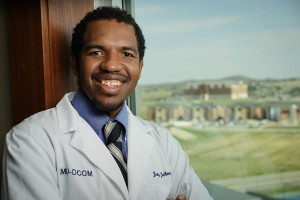 Joey Johnson is a Georgia Highlands College alumnus. Johnson received his associate's in English, philosophy, psychology and arts from GHC in 2011. He also has two bachelor's, one in art and the other in science.
While at GHC, Johnson was president of Psi Beta and vice president of Phi Theta Kappa. He also participated in SGA and was a member of Brother 2 Brother.
Johnson said while participating in these extracurricular activities, "I gained a lot of leadership experience."
Johnson served as an admissions recruiter for Georgia Highlands from July 2011 to July 2013. "Working in the admissions office gave me the ability to see different points of view," said Johnson.
While working for GHC, Johnson was a head recruiter and the adviser/counselor for Brother 2 Brother.
Nancy Applegate, professor of English, said "Joey is the kind of student you don't see many times in a teaching career; he's smart, hardworking, focused, and involved in college life and the community."
Johnson said, "I wanted to become a doctor since I was 8 years old."
Johnson is a student at Lincoln Memorial University-DeBusk College of Osteopathic Medicine in Harrogate, Tennessee.
After graduating from LMU-DCOM this May, Johnson will take a year off before beginning his residency to become the president of The American Medical Student Association (AMSA).
Johnson graduated from Cedartown High School in 2001. "When I graduated, I didn't think becoming a doctor was an option for me," he said. Johnson went on to work at Meggit Polymers and Composites for five years. "I worked in a factory after high school; it didn't take long to discover that job wasn't the life I wanted," he said.
Johnson serves as student editor for The New Physician, which is a bi-monthly magazine that reports on the social, political and ethical issues associated with health care and medical education.
He said, "GHC gave me my first chance to become comfortable working with different organizations on the national scale."