Georgia Highlands College Chargers end season after falling at NJCAA national tournament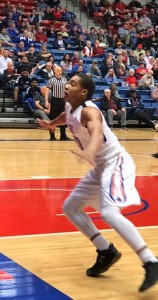 The GHC Chargers ended their season on Wednesday, March 22 after falling 70-69 to Motlow State in the second-round game of the NJCAA national tournament in Hutchinson, Kan.
Motlow State led the Chargers for the majority of the first half. GHC started to come back near half time and was down 40-34 at the half.
During the second half, the Chargers started to take the lead. GHC was leading Motlow State by 14 points with nearly eight minutes left in the game.
Ty Cockfield led the way for the Chargers with 18 points. Ty'lik Evans contributed 17 points for GHC while Antonio Wade contributed 12 points.
Look for a basketball season wrap-up in the April 18 edition of the Six Mile Post.