Creative Writing club at Cartersville provides students ways to share their creativity
Andi Kuykendoll, Staff Writer
April 18, 2017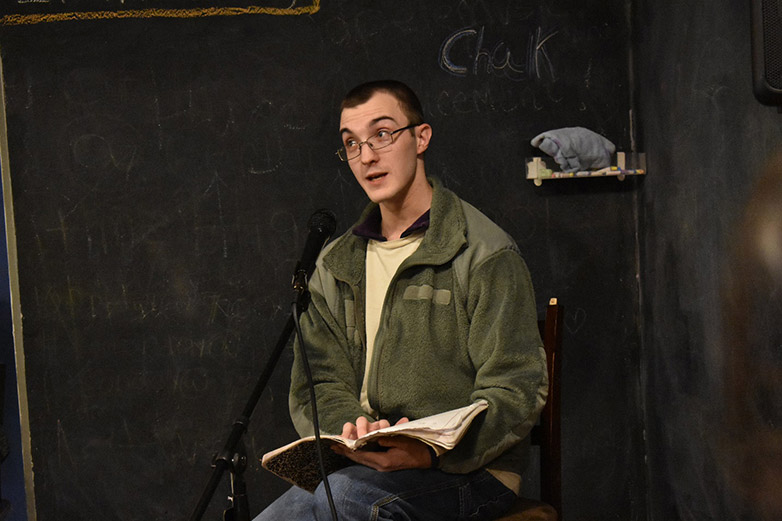 The Creative Writing Club invites everyone to attend the last Poetry Night of the semester, which will be held April 26 at 7 p.m. at Southern Muggs Coffee shop in Cartersville.
Every third Thursday of the month, the Creative Writing Club has a Poetry Night where writers perform a live reading of their poems or other writings at Southern Muggs.
Gunnar Ohberg, English major and president of The Creative Writing Club, said, "Poetry night is a lot of fun! Poetry night at Southern Muggs helped me get comfortable with sharing my stories in front of others."
He said that the most recent event on March 16 was "standing room only." Ohberg said, "The place was packed, and everyone was laughing and applauding and very attentive."
"The Creative Writing Club exists to give GHC students a community of writers with similar creative interests and diverse perspectives," said Jeff Kozee, assistant professor of English and faculty adviser for the club.
"The main purposes of the club are to celebrate the craft of writing and encourage aspiring writers to share their work," said Ohberg.
This semester, the Creative Writing Club meets Tuesday afternoons at 12:30 p.m. on the Cartersville campus near the fireplace in the Student Center.
Students can share their work with the group for constructive feedback or to simply enjoy participating in discussions.
There are no fees or dues to participate in the club. Likewise, there are no restrictions or mandates relative to writing experience.
Any student with an interest is welcome to participate in meetings and events for the club.
For more information about the Creative Writing Club or Poetry Night at Southern Muggs Coffee shop in Cartersville, students may contact the faculty advisers for the Creative Writing Club: Jeff Kozee at [email protected] and Julie Kozee at [email protected]