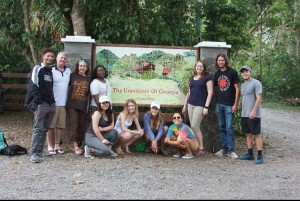 During spring break, nine GHC students and faculty had the opportunity to visit Costa Rica as part of the college's Study Abroad program.
The program took place at the University of Georgia Costa Rica campus (UGACR). The focus of the trip was to learn about the sustainability efforts at UGACR.
Getting the opportunity to travel to a different country and explore another culture was overall an amazing experience. As a group, we agreed that Costa Rica is a beautiful country and that the efforts they are making at UGACR and countrywide in general make Costa Rica even more appealing.
On our first morning, we woke up bright and early to begin our first activity of the day: cow milking. This was a first for many of us and the great thing is that everyone in our group was very interactive and gave all the activities a try.
While we were on the farm, they showed us how they could convert animal waste to cooking fuel using the biodigester on campus.
Next, we had the opportunity to learn about the Carbon Offset Program which is in place to reduce the output of carbon dioxide and other gases to compensate for release of these gases elsewhere. As part of the carbon offset program, we had a UGA resident naturalist talk to us about the different sustainability efforts and encourage us to take care of our home.
We took part in packing dirt for the thousands of trees that have been planted on campus since 2015, which was an empowering and at the same time humbling experience.
On our fourth day, we paid a visit to the Monteverde Cloud Forest along with a guide that was experienced in the plants and array of birds in the area.
After extensive hiking and some bird calling, we were rewarded with sights of beautiful birds and even stayed for lunch and enjoyed our food surrounded by hummingbirds and coatis.
Some of the most exciting activities of the trip were a horseback riding tour and zip-lining through the cloud forest with an amazing view of the Arenal Volcano in the distance, which we also had the privilege of seeing firsthand after a beautiful hike.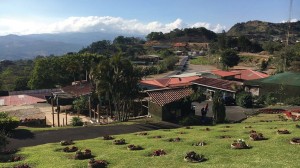 After learning about the country and taking in the stunning scenery, the students spent an afternoon and an overnight visit with a Costa Rican family from the area.
While we were separated, we were in close proximity to the rest of our group. Some students had partners while with their families; however, I was with by myself with my family since I am a native Spanish speaker. Being by myself I felt like I could interact with them more and learn about their day-to-day lives or what they did for fun. My homestay family was very welcoming and really made me feel comfortable. My family did not have much; they were a young couple with a child just starting out, but they were very happy and supportive of each other.
Finally, after long hikes, early mornings, great food and many eye opening experiences, we were able to unwind at the beautiful Baldi Hot Springs Hotel and Hotel Villas Playa Samara.
We watched wild horses prance through the sand, and I got to snorkel in the Pacific Ocean for the first time!
We spent our last moments in Costa Rica with days by the warm pool and evenings watching the gorgeous sunset as a group. The experience I had from being in such a nature-filled country with an encouraging group of people is unforgettable.
We all left saying, "Pura Vida!" which is the Costa Rican saying that we often heard on our trip. The phrase is associated with many English interpretations such as "pure life" (the literal translation), "take it easy," "all good," "hello," "goodbye" and many more. The point is that foreigners truly do not have a true grasp of the meaning of "Pura Vida" as they are not Costa Ricans themselves.
To me, Pura Vida means that no matter what your current situation is, life for someone else can always be less fortunate than your own. So you need to consider that maybe…just maybe, your situation isn't all that bad and no matter how little or how much you have in life, we are all here together and life is short…so start living it "Pura Vida style."