Lady Chargers softball team end season after falling at GCAA tournament
GHC's Lady Chargers softball team recently competed in the GCAA conference tournament. The tournament was hosted by Georgia Military College in Milledgeville.
The first-round game of the GCAA tournament for the #3 seed Lady Chargers started on April 27 at 1 p.m. The game had to be finished on April 28 at 9 a.m. due to inclement weather. GHC faced the #6 seed Gordon State at this game and won 11-7.
Since the Lady Chargers won the first-round game, the team advanced to the second-round game and faced the #2 seed Georgia Military College. This game took place at noon on April 28. The Lady Chargers lost 4-3.
The tournament did not end for the Lady Chargers at this point. The team went to a loser's bracket. GHC first played South Georgia State on April 28 in the loser's bracket and won 9-0. They then faced Gordon State on April 28 and won 9-5.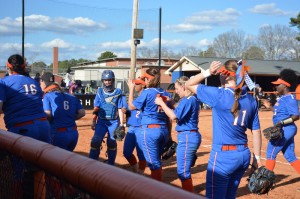 Finally, GHC played Georgia Military again on April 29 and fell 7-6 to conclude the season. The team had a 43-14 overall season record.