Spanish activity group visits Boys and Girls Club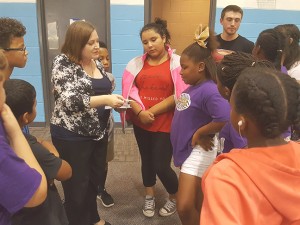 The Cartersville Campus Spanish Activity Club meets every other Friday at the Boys and Girls Club to teach the children everyday skills and to introduce them to the Spanish language.
The club's goal at the Boys and Girls Club is to serve the community while doing fun activities with the children.
Kathryn Garcia, adviser of the Spanish Activity Club said, "We try to speak Spanish to the children … to get them used to the language."
She said, "We want to show them that learning a foreign language is fun!"
The club believes that children should be taught languages and everyday skills while they are young.
"When you are little you do not think about rules. You just hear things and start picking up on what you are supposed to do," said Dee Rincon Fuentes, president of the Spanish Activity Club.
A normal Friday at the Boys and Girls Club includes activities such as learning the dynamics of grocery shopping.
Kids at the Boys and Girls club are also learning basic Spanish grammar and vocabulary and practicing conversational expressions.
The members of the club agree that it is a lot of work, but the experience is rewarding.
Outside of the Boys and Girls Club, the Spanish Activity Club organizes events that enhance the understanding of the Hispanic culture.
Some of these events include movie nights, film festivals and Hispanic celebrations.
The club invites anyone who is interested in the Spanish language or Hispanic Culture to join. "It does not matter if you do not speak Spanish! Anyone is welcome to the club!" said Garcia.
For more information about the Spanish Activity Club, students may contact Garcia. Her e-mail address is [email protected]