Georgia Highlands betters the environment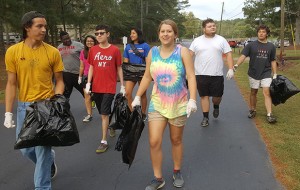 Georgia Highlands College has the perfect club for students who are interested in nature, recycling and the great outdoors.
If people like camping, cleaning lakes and rivers, pushing recycling efforts and bettering the environment, they should join Green Highlands.
Georgia Steele, a student at the Floyd campus and the club's new president for the 2017-18 school year, said that the club plans on participating in as many river/lake cleanups as they possibly can.
"We participated in the 2017 Great Lake Allatoona Clean-Up," Steele stated, describing one of the first activities for the club during this school year. "We swam, grilled out, had a few fires and bonded as a group, all while we helped clean up the beautiful lake."
Steele and Emily Blalock, co-president, began their leadership of the club after the former president, Lucas Lester, transferred schools.
Blalock will be helping Steele organize trips, clean-ups and fundraisers for the club that consists of 13 members.
Steele said the club will be volunteering at the Rome International Film Festival (RIFF), and they hope to participate in the Rome River's Alive cleanup with the Coosa River Basin Initiative (CRBI).
When the club isn't doing an exciting event like a river cleanup or camping, they are busy coordinating recycling efforts on campus and running the Charger Garden.
Any GHC student that feels inclined should look out for a Green Highlands member on your campus and talk to them about signing up.