Smith-Camacho: Taking charge through art and finances at GHC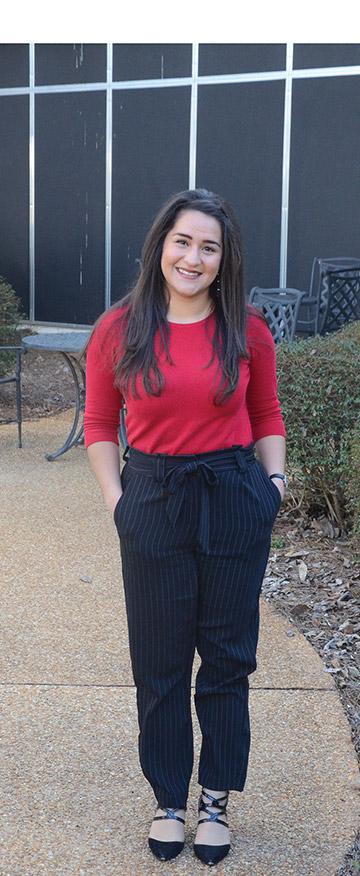 Xinia Smith-Camacho is both a student and an employee of Georgia Highlands College.
She is currently the financial services accountant at GHC. Smith-Camacho has been a part of GHC since 2015.
Smith-Camacho has proven to be a quick learner, and it is with her passion, determination and positive attitude that has led her to overcome and express her struggles through her work and skill as an artist.
Smith-Camacho was born in Costa Rica and lived there for 16 years. Her fondest memories of Costa Rica are being with friends and family, with all of its good food and culture.
But being in America has taught her to love Costa Rica even more. According to Smith-Camacho, "You tend to appreciate what you love more when you are far away from it."
Costa Rica is where her love for art would also be born, despite limited resources. "My dad did a little art, and I learned by copying him, by putting stuff together and looking at him constantly," said Smith-Camacho.
When she moved to America and applied to Armuchee High School in March 2009, it was not an easy transition, as she was also struggling with learning English and the school system.
While school was difficult at first, she managed to succeed, particularly in math, physical education and art,  class from which her award-winning painting "Donkey" was created in 10 hours. She graduated in 2009.
Before applying to GHC, Smith-Camacho worked many jobs, ranging from fast food, a technician, a travel auditor and even at a bank. As she worked her way at GHC, she was then recommended by the son of Cynthia Parker, the manager of purchasing, to her current job today. As an avid learner, Smith-Camacho said, "If you're willing to learn, you can do anything."
When she is not doing art, or making sure GHC's expenses have backing, her hobbies include cooking, eating, family, her Mom being her art critic, and being in nature, for nature is the artist that inspires her the most.
According to Smith-Camacho, "Art is in nature, and it allows you to admire what God has created."
Animals are another part of Smith-Camacho's life. They serve as the main motifs for the themes in her art. According to Smith-Camacho, "There is a beauty in animals that make them unique."
To her, animals are the perfect motif for her themes of struggling with the English language and family, as seen in her pieces "Donkey" and "The Three Cheetahs."
In the future, Smith-Camacho plans to get an Associate degree in Business and her Bachelor's and Master's degrees in accounting.
She is also planning to be a CPA in forensic accounting, inspired by her temporary work for the Floyd County Police, and even going up to the FBI.
When it comes to inspiring artists, her advice would be to always explore, grow as a person and always listen. She said, "You never know what you can do with one step."