Blankenship: Students, tigers and bears oh my!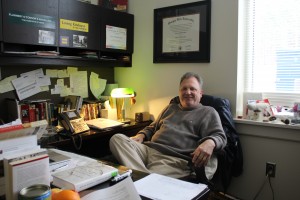 Steve Blankenship, professor of history on the Cartersville campus, has taught both students and animals.
Blankenship has taught at both Georgia Highlands and Georgia State. Prior to teaching, he was an animal trainer and caretaker. He has taken care of animals such as chickens, rabbits, horses, snakes, monkeys, bears, tigers and many more.
Blankenship is from Shannon, Georgia. He attended college at the University of Florida, Florida State, Emory and Georgia State, where he got his doctrate.
Blankenship began his journey as an animal trainer through the kennel and farm he ran in Conyers, Georgia.
He trained animals for entertainment and media purposes as well as just for fun. His dog Hunter was Sheriff Bill Gillespie's dog on the TV series "In the Heat of the Night."
His turkeys were used in Honey Baked Ham commercials and various other animals he cared for were featured in media.
All the animals Blankenship had were trained by himself. His dog Hunter was completely hand trained. Blankenship could control how loud or soft the dog barked, make it sit, lie down and play dead among other tricks.
He taught himself how to train animals just by being with them for hours and working with them daily. He once taught a chicken to sit still on a basketball, because the chicken was needed to sit stationary on a globe at a convention in Atlanta.
Along with the care taking and training of animals, Blankenship also rehabilitated animals like hawks, falcons, peacocks and other species.
Blankenship's animal caretaking business grew from taking care of dogs and farm animals to exotic unique creatures, such as a tiger named Catori.
Blankenship said, "If you have never heard a tiger roar it literally sounds like the voice of God; it is beautiful to see this awe-inspiring animal up close." Blankenship took care of the big cat from a cub until it was too big and it then lived out the rest of its life at Noah's Ark, an educational animal sanctuary.
Daily life on Blankenship's property involved cleaning pens and runs, replenishing water, feeding, repairing fences and making sure all the animals had their shots and were healthy.
He had thirty-five acres of pasture, runs for different animals and cages for smaller animals.
Blankenship said, "The skills required to train animals are very similar to the skills required to teach. You have to pay attention, excert power and use good voice control to overall be in command."