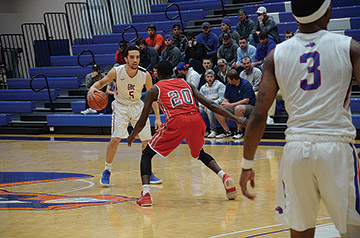 AJ Banton is a guard for the Georgia Highlands Chargers basketball team.
He began to play basketball around five years old after his great grandfather introduced the sport to him.
"It was a super rusty rim, no net and I'm honestly not even sure if there was a back board," grinned Banton.
"Honestly, I don't even think I was shooting a ball in it. It was something other than a ball," laughed Banton.
"My mom was the one who got me to play," he said.
Banton grew up in Englewood, New Jersey.
He moved to Georgia when he was nine. He has two little sisters and one little brother.
Banton attended a prep school and got injured there. He decided to try for JUCO due to the injury and got in contact with many junior colleges.
He tried out for the Chargers and they liked him, and he was given a scholarship.
Banton said, "I plan to get my degree and hopefully play professionally."
He also said, "As far as after GHC, I will go wherever the best fit is for me. Wherever I can be a better person, a better student and a better player as Coach Gaffney says."
As a student of GHC, there are some things he likes and enjoys about the college.
Banton said, "I like how the professors are willing to help."
He continued, "If you have a question, they are there willing to help every time and the tutoring center is super helpful."
Banton continued, "The people here in general are totally nice too."
Gaffney said AJ has been a great player for Georgia Highlands and has several options for his future.
Gaffney said, "I expect him to have a great future in basketball."