Watterson believes it to be 'an appropriate time' to retire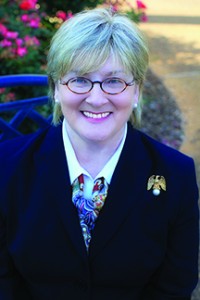 Renva Watterson is the vice president for academic affairs and will be retiring after the spring semester. Watterson has been at GHC for 12 years. She first came to GHC when she applied for the position of division chairperson for Humanities at the suggestion of Bill Mugleston.
Watterson grew up in Calhoun, Georgia, and graduated from Shorter College. She then went on to earn her master's and doctorate from the University of Arkansas.
Watterson said, "Like all educational institutions where I have worked, this college is filled with dedicated, hard-working and innovative thought leaders who have made it their business to consistently invest in the future. GHC's mission is solid and growth-oriented, and the future is bright because of this."
A few of Watterson's favorite aspects and memories of her time at Highlands include the friends she found in her coworkers, student achievements as well as teacher and student success she has witnessed both inside and outside of the classroom.
Lillian Robertson is Watterson's administrative assistant and Robertson said, "It has been a pleasure to work with her; she is a very conscientious boss."
Watterson is retiring because she said, "It seems an appropriate time to turn over this job to the next aspirational and inspirational leader, both characteristics I hope I have evidenced."
Once retired, Watterson and her husband will be dividing their time between Rome, Georgia and Nashville, Tennessee where their children and grandchildren are.
Advice Watterson would like to leave students with is, "If you can be anything (and you can!), be kind."