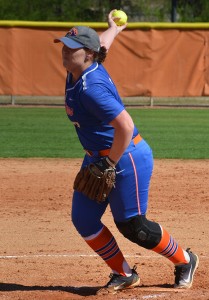 Georgia Highlands' softball team is heading to the GCAA softball tournament, and they are hosting it. All games will take place at Stars Field, located at 2200 Joe Frank Harris Parkway in Cartersville.
The GCAA softball tournament will run from May 4 until May 6. The Lady Chargers defeated South Georgia State 5-2 to on May 4 at 1:30 p.m. at Stars Field to advance to the next round of the GCAA tournament. They then defeated Georgia Military College 7-4 in that round on May 5 to advance to the GCAA championship game on May 6.
The Lady Chargers will now face South Georgia State on May 6 at 1 p.m. Make sure to go cheer on our Chargers and watch out for updates on sixmilepost.com and on Twitter @6MilePost.
Before going to the postseason, the Lady Chargers beat West Georgia Tech in a doubleheader on April 28. In the first game, they beat West Georgia Tech 13-1 and in the second game, they beat West Georgia Tech 15-5.
Outfielder Mackenzy McFarland was on top of both games totaling four home runs. Shortstop Shayla Smith didn't let anything get past her.
Third baseman Kindell Reeves was on top of the hits as well. Reeves had two hits and had three RBI in game one.
Pitcher Micayla McCoy pitched four innings in the first game and three innings in the second game.
Peyton Henderson pitched one inning in the first game and two in the second game.