New V.P. of academic affairs has students in mind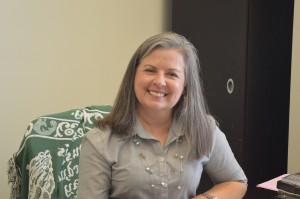 Dana Nichols is GHC's new vice president for academic affairs. Bearing a huge responsibility to the students and faculty of GHC, Nichols said, "At the end of the day, it is my job to ensure that GHC is delivering quality education to its students."
Nichols' goal is to develop programs that are relevant to today's workforce needs, maintain appropriate levels of academic rigor in all programs and provide professional development opportunities to faculty so they "stay at the forefront of best practices in teaching and learning," she said.
Fortunately, she believes she has an "amazing team of deans, directors and faculty to help me do this."
Donald Green, the president of Georgia Highlands, took part in the hiring process of Nichols. Green saw that "Dr. Nichols' first priority was students." He values that Nichols embraces innovation and change.
Nichols was born and raised in Georgia. She received her associate degree from Gainesville College, her bachelor's degree from Mercer University and her graduate degree from Georgia State University.
She began her career in education at Gainesville College. Nichols worked in writing and foreign language labs, tutoring in all levels of Spanish, linguistics and English. She also taught English as a second language.
She eventually became assistant vice president of academic affairs at Lanier Tech in 2014 and in 2016 at Chattanooga State College.
Regardless of how she made it to this point, Nichols is thankful for the opportunity to help people change their lives for the better. "My favorite part of this job is seeing students succeed in attaining their goals," she said.