Grinels a big hit with Highlands students
Red-haired and blue-eyed, Jenn Grinels taps her brown boot and strums her guitar. As she effortlessly belts out notes, students at the Cartersville campus stop in their tracks, end their conversations and slowly make their way over to the small stage.
Audience members sing with her and rock side to side. Her music and personality are magnetic. As students pass by, she laughs and jokes with them as if they were old friends. She seems to care about her audience as much as she cares about her music.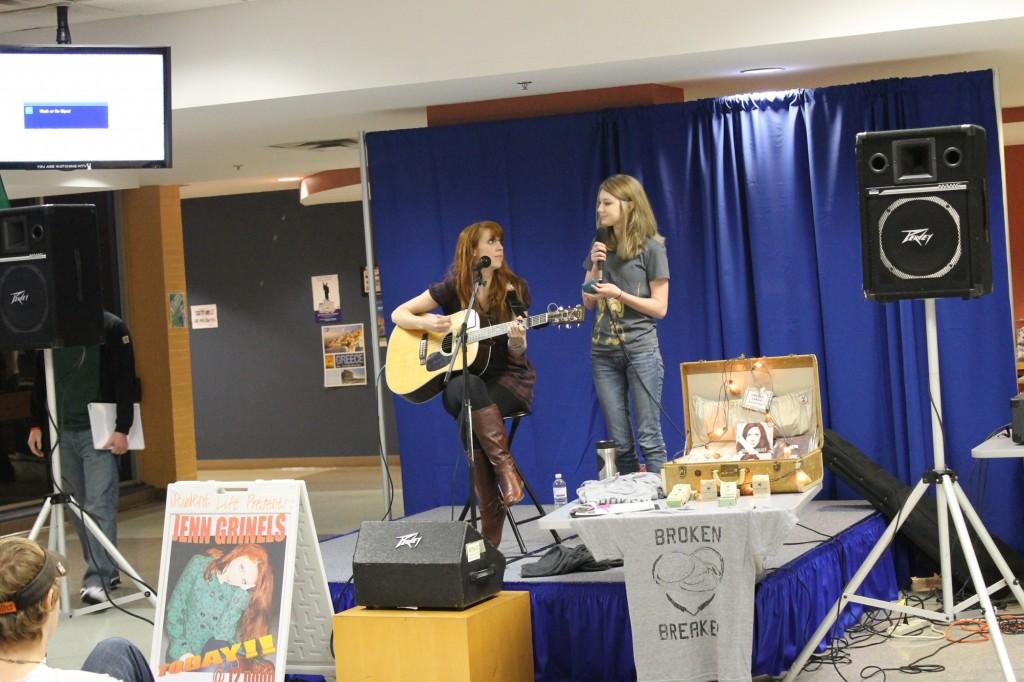 Grinels, an indie musician from California, and her wonderful sense of humor appear to be right at home on the Georgia Highlands stage.
Before mixing vocals and guitar, Grinels had been studying theatre. While in college, she picked up the instrument in an effort to expand her musical capabilities, an indie singer/ songwriter was born. Since discovering her passion, Grinels has dedicated her time to building audiences and sharing music in a welcoming atmosphere.
For over four years, Grinels and her team have been on the road. Grinels laughed about leaving her apartment. She then rolled her eyes and jokingly said,"I haven't lived in my car or anything."
Following her performance, she sits on a table and swings her feet back and forth, occasionally laughing with students who have gathered. She is optimistic about her future and the future of her music.
Handing out CDs and downloads, Grinels is eager to share the music she has worked so hard to create.
Garrett Grabowski, a biology major at the Cartersville campus, was impressed. "She was really funny, and I thought her voice was very powerful," Garrett said. Grinels also performed at the Floyd Campus on Jan. 10, Paulding on Jan. 11 and Douglasville on Jan. 12.
For more information about Grinels and to get free downloads, visit her on Facebook or follow her on twitter @JennGrinels.