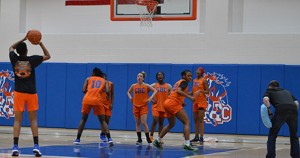 The Georgia Highlands women's basketball program is starting a mentor program for the athletes of the team. It is the first year this program has started under Head Coach Brandon Harrell and Assistant Coach Consuelo Saxton.
"I have been kicking around for a couple of years to do it, and we finally got everything set into place to start this program" said Harrell.
The players are paired up with mentors from around the community. The mentors are made up of ten successful leaders in the community from all different areas in business, education, social work, and athletics.
The purpose of the mentor program is to connect the players with a positive influence in the community. If a player is in need of someone, the mentor is available. The goal is for the mentors and the players to build lifelong relationships whether it is professional or personal. It is an opportunity for people in the community to meet and get to know about the women in the program. The program can unite the community and the Georgia Highlands program as GHC is looking to build a network with the community.
"Our girls come from different areas of the community, the region, the state, even the country," said Harrell. "We want to give the players a good support system, and we need to do a service like this for them." The general plan is for all players and mentors to come together as a group to encourage the connection process.
The program started out a few weeks ago with a meet and greet. The players were then be paired up with mentors, they and got to know each other. There is an ongoing exchange of contact between the players and the mentors throughout the basketball season.