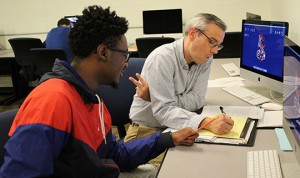 The GHC tutorial center is expanding each year with 11,475 visits in the past year across all sites. Walk-ins are welcomed for all subjects. A tutor may not be available at each site for subjects such as history, chemistry, biology and psychology.
The tutorial center also has an appointment-based system for specific topics to make sure the right tutors are there when the student needs them.  The appointment-based system is especially used for writing.
Students who are interested in booking an appointment can log into the TutorTrac and make an appointment there.
The Heritage Hall campus is the only campus that is the exception because it focuses mainly on tutoring the nursing curriculum.
Last year GHC added a nursing tutor for its first-year nursing students at the Heritage Hall campus and are in the process of accommodating their second-year students with another tutor on the site.
"GHC currently has 27 part-time tutors working across all of our campuses. We have a mixture of peer and professional tutors. Our peer tutors are current students or students who have not yet earned a bachelor's degree. The peer students are well vetted," said Nea Martin, GHC's assistant director of tutoring.
The process and requirements to be a student tutor are that students interested must submit a letter of recommendation from an instructor whose classes they attended for the subject they wish to tutor. They must also have an A or B in the course for which they tutor. The professional tutors have bachelor's degree or higher in math, English or other fields.
Martin said, "The purpose of the centers is to help students succeed in their chosen academic area. We want to help students become independent learners." A GHC student said, "I go every now and then, but when I do go, it's very helpful."
Each center is equipped with computers and calculators that are placed in the school's libraries. Workshops are also offered in areas such as study skills, research papers and calculator use. The hours of operation for tutoring sites vary but are easy to locate on the GHC site. The tutorial center also provides online tutoring for online courses using Brainfuse.