GHC Chargers beat South Georgia state 88-76 on Jan. 12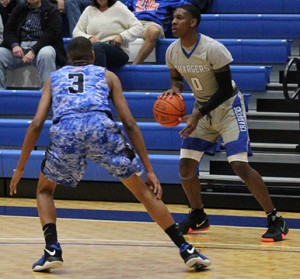 The GHC men's basketball team won 88-76 against conference opponent South Georgia State Jan. 12 at home.
The Chargers opened the game slow, trailing by a point, and then took over after that. They would go on a 13-point run and only let South Georgia score 5 points before a timeout at the 15 minute mark.
Khalyl Waters had 5 blocks 3 minutes into the game. By halftime, Waters would have 9 blocks, and the Chargers would go into the locker room with an 18 point lead.
The Chargers would have another slow start in the beginning of the second half, letting South Georgia State score 6 points. After a Derrick Cook 3-pointer, the rest of the team would settle in and start to score. Cook hit another 3-pointer; Waters had a strong dunk off a pump fake around the 16-minute mark. At the 11-minute mark Chris Wright threw an alley-oop off the glass for Waters.
Wright would go on to have 12 assists and 11 points. Waters would finish with a record number of 12 blocks and 24 points.
Philip Gaffney, GHC head coach, said, "The defense was great early on, which is nice considering most of our big guys are out for various reasons. The early defense set the tone and let us get the big lead."
Gaffney also said, "Chris is an amazing player. His passing is phenomenal and he makes our offense go."
Waters talked about his record-setting night. He said, "That was just me being there for my teammates and trying to help them defensively."
Waters also talked about how effective his teammate Wright's, passing was. "He saves us a lot of energy running up and down the floor, and he is really a blessing for us," Waters said.
Waters described the alley-oop he caught from Wright, saying, "Chris is a risky player, and I told him to throw it off the glass while we were in transition. You know me. I am going to go and get it," smiled Waters.
The Chargers will travel to Albany Technical College for their next game on Jan. 16. Then they will be at home on Saturday Jan. 19, at 4 p.m., to take on Gordon College, which is currently the top-ranked team in GCAA Division I.