GHC softball twins play together, win together, transfer together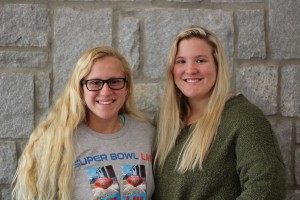 Georgia Highlands has its very own set of softball playing twins. Emma and Sydney McDonald have been playing softball since they were just five years old.
They graduated from Loganville High, where they also played on a team together. Following this, they came to GHC where they have spent the last two years.
They have now been playing the sport for 14 years. Emma plays second base, while Sydney can play first & third base, as well as catcher.
They have had many pleasant experiences over the years, but the thing that differentiates their experience playing for GHC versus anywhere else is the atmosphere.
The twins both agreed that they adore their teammates, and that they are all actually very close.
The team has planned outings that vary from a trip to the movies, to a trip to Florida's Gulf Shores later this semester.
The students said that their favorite part of playing had to be all of the double plays that they have been able to pull off.
The twins have high hopes about their future. After they graduate this fall, Emma and Sydney plan to transfer to Wesleyan College.
There, they will have the unique opportunity to help rebuild the school's softball program, as it hasn't had much success in recent years. They plan to revive it during their time there.
As for the more distant future, their plans are simple.
While they cherish their time in softball, nothing is more of a priority to them than their education.
While Sydney is pursuing a communications major in preparation to work at ESPN, Emma is working towards a degree in athlete training as well as physical therapy.