"Echale ganas mijo!" (Try harder, work harder.) At every stage of his life, Abraham Ortiz does not take his parents' advice lightly.
Ortiz, sophomore and president of Brother-to- Brother on the Marietta campus, is Georgia Highlands College's 2012 representative for Academic Recognition Day.
The students from colleges around the state who have been chosen for this honor receive a commendatory letter from the chancellor and signed resolutions from the Georgia Senate and House of Representatives.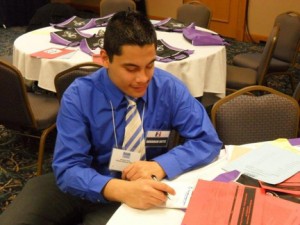 To be chosen for this honor, prospective students must have demonstrated outstanding academic achievement and hold a high grade point average.
Born June 6, 1990, in Pasadena Calif., Ortiz has overcome many trials in his life. One that has impacted his life the most is a condition he was born with termed cerebral palsy.
The Institute of Neurological Disorders and Stroke reports that this is caused by brain damage and usually affects muscle movement.
What stands out about Ortiz, though, is not the slight limp he walks with but his warm and engaging presence.
As a child, Ortiz recalls that he did not understand why he had to be born with such a disability.
This is why he would often sit in the back of the class, hoping that no one would notice he was different. All this changed during his teenage years when he found himself craving attention and did as many teens do by acting out and hanging with the wrong crowds in some cases.
His life and his perspective took a different turn during his senior year as he approached graduation and toyed with the idea of going to college.
Ortiz has a strong and quiet confidence, and his passion and zeal for serving his community is infectious.
Trey Squire, member of Brother-to-Brother since fall of 2010, believes that whoever succeeds Ortiz will have big shoes to fill.
Squire appreciates that Ortiz holds the brothers accountable, and he often takes a genuine interest in their success.
Ortiz says if it had not been for his family's support along with many of his teachers and various other supporters, who have and continue to champion him, he does not know where he would be today.
He said, "Now sure, some more than others have helped to shape me, but really every person I have encountered has added value to my life one way or another."
Ortiz is wise beyond his years, and although he stresses that it's not about him, one can't help but be moved by his strong sense of self, which has ironically come about though his trials.
Although Ortiz is an exceptional student and a respected leader on campus, he maintains that he's far from perfect and believes that everyone has something of value to offer regardless of who they are.
Ortiz's parents advice to "Try harder, work harder" has certainly made all the difference in his life.