The Chargers lose a close thrilling home game to conference leader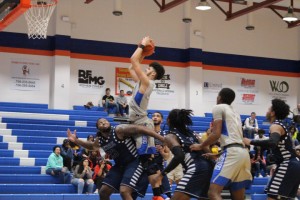 The Chargers were ahead going into the second half but let that lead go. Central Georgia Technical College would tie the game with eight minutes left. The Chargers took back the lead, but would lose it again due to poor shooting from the field and 3 point range. Central Georgia Technical won 79-75.
Phillip Gaffney, Director of Athletics and head men's coach, said, "We started off great but got into foul trouble. We also didn't shoot the ball well either." Gaffney talked about what was said to the players after the loss at home. "We just told them to keep their heads high and keep working," Gaffney said.
The Chargers future is still in the air, but it is likely that they will host the quarterfinal on March 5.
The Chargers will play their last game at Andrew College on Saturday, March 2 at 3 p.m.
---