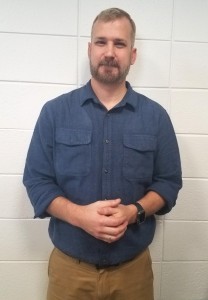 Jacob Sullins is an associate professor of humanities at GHC. But more than that, he is a GHC alumnus and a former Six Mile Post editor.
Sullins was the editor in chief of the Six Mile Post during the 1996-97 academic year. Sullins remembers his time fondly: "That experience gave me some useful leadership experience, but it also gave me a strong sense of how writing and creative work is much like any other job–a person simply has to buckle down and do the work, like any other kind of skilled craft or trade."
After his year with the SMP, Sullins was appointed editor of the Old Red Kimono, a literary magazine containing poetry, prose and art from GHC students. When it came to how his time with ORK differed from his experience with the SMP, Sullins said that it was slower and more meditative. Sullins says he learned a very important lesson from his work with the SMP and ORK."If you can find some way or angle to get excited about the subject of your writing, there's a much better chance that anyone who reads it will be excited about it, too," he said.
After Sullins graduated from GHC, he moved on to the journalism program at UGA. Sullins said that he nearly dropped out his junior year due to the rigorousness of the courses but persisted because of his love of writing that the Six Mile Post instilled in him.
Sullins was also a police officer for a short period, which he said has influenced some of his published stories. "A lot of my writing is about crime and violence, Sullins said.
His most recent publication is a very short story called "Potato Masher." It won third place in the British magazine Flashback Fiction's World War I microfiction contest.Sullins returned to GHC as a part-time teacher in 2007. He is now the English coordinator.
Sullins is currently working on his Ph.D. from Georgia State University.