DEA outreach coordinator speaks on opioids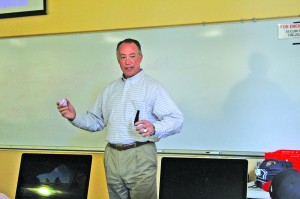 Emmett Highland, the diversion outreach coordinator for the DEA, shared his concern over the opioid epidemic with students on the Floyd campus Feb. 26.
Speaking to the GHC Political Science and Criminal Justice Club, Highland cited recent statistics. In 2017 there were 72,000 drug overdose deaths, and 49,000 opioid overdose deaths.
According to Highland, more than 91 people die every day due to a prescription drug overdose. In Georgia, 1,620 people died of drug overdose and 1,040 died of opioid overdose in 2017. Respiratory reduction is the symptom that kills during an overdose.
Highland talked about two doctors that were unnecassarily prescribing pills. Joseph Burton was one of them. Burton wrote 1,100 prescriptions for opioid painkillers, such as oxycodone, hydrocodone and methadone, in exchange for sex.
Highland said that people who start using heroin usually start by using prescriptions. Heroin is easily attainable, and it is cheap. Highland explained most heroin comes from Mexico to Atlanta and then goes everywhere else.
Fentanyl is 25-40 times more potent than heroin. According to Highland, fentanyl comes from Mexico and China. Fentanyl is starting to be found in other drugs, and it can be manipulated into other substances.
Highland gave the criminal justice students a few tips on how to treat these types of cases. A few of the tips included: treat it like a homicide, talk to the family, look for pharmacy receipts, look for pill bottles, get autopsies, record in pictures and write.
Drugfree.org is a good website to learn more about the opioid epidemic and a way to get involved. SAMHSA.org is a good place to use to find rehab and treatment centers. HHS.gov/opioid gives information on treatments and about the epidemic. The national hotline is 877-734-6812. The opioid hotline is 800-662-4357.