GHC soccer club participates in invitational tournament in Dalton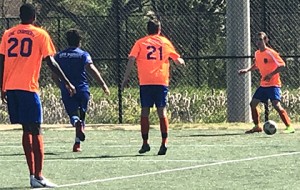 The GHC Soccer Club men's team participated in the Carpet Capital Invitational Soccer Tournament in Dalton on March 29 and 30 that was hosted by Dalton State College.
The GHC Soccer Club did not have a spring season and had only held a couple of practices before the tournament, and the time away from the pitch showed during the tournament. Several players that participated in the fall were not available for the spring tournament, and some new players were added to help fill up the roster.
GHC faced Dalton State on Friday, March 29, for the first game, ultimately losing 7-5. "We led several times during that game, but we were playing with only ten men so the fatigue got to us a bit. A couple of additional players would have given us a lift in the substitution area as well ,but all the guys played hard and we really thought victory was within reach," head coach and student life director John Spranza said.
Amadou Touray from the Marietta campus led the Chargers with three goals and an assist against Dalton. Floyd campus' Alejandro Cornejo scored a goal and an assist, and Cartersville's Johnathan Torres scored a goal. New goalkeeper Dylan McLaughlin from the Floyd Campus recorded 11 saves in the contest.
March 30 the Chargers had two games scheduled. The first game that morning was against Delray Farms FC, and again the Chargers were faced with playing short-handed with only 11 players available. Delray exploded offensively and defeated GHC 10-1.
The final game that afternoon was against Cuervos FC, another local adult league team.
A few additional players showed up, so GHC finally had substitutions on the bench,.and played a tight and tough game before falling 2-1 to the eventual second place team in the tournament. Charlie Cruz from the Floyd campus scored the Chargers' only goal.
"Overall, I was pleased with the performance on the field by our guys. We really had some good combinations and had some chances to score, but several of the opposing keepers made some good saves against us. This tournament experience was more about continuing our team development rather than about getting wins, so I was happy with what I saw from our squad," Spranza said.
The tournament was the final game of the spring semester. The next contests will take place during the fall semester 2019.
The men's team has qualified for full membership in the NIRSA Region 2 League next fall.
The women's team will be an associate member again.
Students interested in playing for the Soccer Club in the fall on either the men's or women's team can contact Spranza at [email protected].