Six Mile Post editors share their experiences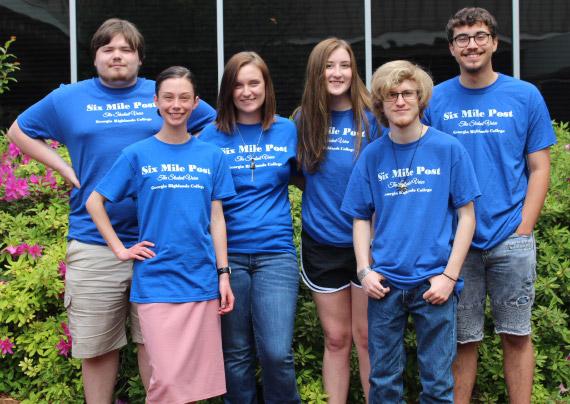 Catie Sullivan
Editor-in-Chief
Serving as the editor-in-chief of the Six Mile Post for the past two years has provided me with an enjoyable work experience. I have been able to improve my computer, personal and literary skills.
I am thankful for both my advisers, Kristie Kemper and Cindy Wheeler, for they both have helped me and the other Six Mile Post staff members put out issues of the newspaper that we can be proud of.
I will forever cherish my time here at the Six Mile Post because of all the opportunities I have received from working on the newspaper.
I have been able to travel to Dallas, Texas; Louisville, Kentucky; Athens and Savannah, Georgia for press conferences. These conferences provided me with a deeper look into journalism as a career as well as helped me learn how to improve the Six Mile Post during my time here.
I would recommend working at the Six Mile Post either as a paid editor or as a staff writer or photographer. Working on the paper has made going to college rewarding and more comfortable due to my fellow editors and advisors standing as a support team inside and outside of the Six Mile Post office.
Joseph McDaniel
Managing Ed., Online
I was not planning to get an important position when I applied to the Six Mile Post. However, when I received an offer for the position of art and design manager, I decided to take it. I have now worked with the Six Mile Post for the last two years, learning many skills related to journalism and enhanced the talents I already possessed such as my art and writing. I have had great opportunities to go on trips to media conventions, in particular the trips to Savannah and Louisville.
More importantly, I have found some great friends in my co-workers over the two years working for the paper, from Scott and Josh, the two great sports editors each year I have worked here, to the amazing Catie and Nick, who have been with me from the first day working on the paper back in fall 2017. I will leave my position at the end of the year, and I will have taken many memories of great experiences with me.
Nevertheless, I look forwards to my future with the skills I learned from my job. To quote Calvin and Hobbes: "It's a magical world, ol' buddy. Let's go exploring."
Nick Whitmire
Managing Ed., Online
Working for the Six Mile Post I started out as the assistant online editor and then rose up into the managing editor online. In my time on the paper, I learned new skills in Photoshop and InDesign and was able to push the Six Mile Post website in a new direction.
More importantly to me, I was able to develop my skills as a writer, and I was able to take on major issues that affect Highlands. I was also able to take on big topics through editorials and express my passion for film through reviews and editors boxes.
Joining the Six Mile Post was one of the absolute best decisions I ever made during my time at GHC. As I graduate GHC and say farewell, I leave with an even greater respect for the world of journalism.
However, what I will remember most about the Six Mile Post is not just the stories I have written, but also the people that I have had the pleasure of getting to work with.
To Catie, Jody, Scott, Olivia, Kayley and former SMP member Josh Mabry, they say that the friends you make in college will last you a lifetime, and I could not ask for better friends than all of you.
Scott Rosario
Managing Sports Ed.
I started as a staff writer on the Six Mile Post my second semester here at Georgia Highlands; then I became the managing sports editor the following fall semester.
My time at the Six Mile Post has taught me a lot of things. It taught me how to manage my time better, responsibility, work ethic and it helped me with my shyness as well. Whether I was writing, interviewing or doing layout I enjoyed every second of it. It definitely is something that I'll never forget and I'll be able to use in other facets of life.
Olivia Fortner
Asst. Online Editor
Journalism is telling the story of the heart of the world. We, as journalists, are here to document even the things no one wants printed, because if it is happening now it should be remembered.
In years to come people will want to know what happened in the past. The big events will be easy to read about, but without the journalist the detailed and personal stories will go undocumented. Even the small-time journalist is relied upon by the people. That's why I am thankful for what the Six Mile Post is doing.
Two weeks into my college career I was interviewed for a position at the Six Mile Post, and they put me to work right away. When I was unsure if I was doing everything right, my coworkers would always guide me along the way.
I have learned the ins and outs of working a WordPress website, managing social media as a news outlet, and my writing skills have increased. The SMP team has taught me the importance of communicating and being a part of a group effort. Working here,I have learned the most valuable skills, and I will continue to use them as I grow into my future career.
Kayley Agan
Chief Photographer
I have really enjoyed working for the Six Mile Post. During my time here I have met many special people and attended wonderful seminars. We have laughed and shared stories with each other, as if we were family.
I have been in the photography hobby for about four years now, so I applied for this position in hopes to strengthen my photography skills. This job has gone above and beyond my expectations and has left its mark on me. I feel that I have gotten a lot stronger in my skills, and my weaknesses have become my strengths.
The best part about the Six Mile Post is that we are a team. We are a family. I am going to miss this team and the times we've had. Thank you, Six Mile Post, for a wonderful time.
Bradley Singh
Assistant Ed., Sports
When I first accepted my position with the Six Mile Post this spring, I had no experience with any type of professional writing. After spending the last few months writing about the GHC baseball team, I have learned so much. From learning the nuances of the game to talking to players and coaches, this experience has been extremely enjoyable for me.
I also want to thank Kemper and Wheeler for giving me the opportunity to write about something I'm passionate about.