GHC has helped me find my voice and choose my path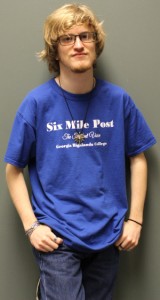 I never really fit in anywhere I went. Sometimes I still feel that way. But when I first walked into the doors at GHC, I knew I had found a place where I wouldn't say I fit in, but a place where I could develop my voice, and I am thankful for that.
When it came to me applying for GHC, I had no idea how influential it would be on my life.
When I first started at GHC in the fall of 2016, I was just another student trying to get by with a pathway that would get me a job. After I changed my pathway from Computer Science to English, I found the path that I always wanted. As an English major, I was able to succeed in my classes as I embraced my passion for writing, which has always been my goal. I not only met many professors that became my mentors but also great friends who helped guide me during my time at GHC.
Another big decision during my time at GHC was joining the Six Mile Post in the fall of 2017, starting out as the Assistant Online Editor and then rising up to Managing Editor for Online. Here I was able to connect to GHC in ways that I never imagined, such as writing about major events and expressing my different passions such as film.
Outside of school, I was able to contribute to the Old Red Kimono and join the Phi Theta Kappa, where I was given opportunities to publish my writing and achieve awards.
As I graduate from GHC, I know I was able to learn new skills and also find my voice as a person. I hope to continue my life as a storyteller, and I hope that future students find their voices at GHC as well.