Hispanic Heritage Month to combat cultural myths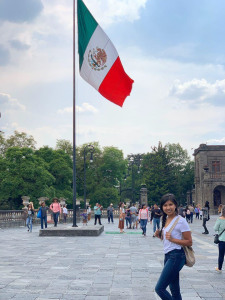 Georgia Highlands recently celebrated Hispanic Heritage month, taking time to celebrate the culture and heritage of Hispanic students.
Though the celebration is a fairly recent development, it provides an opportunity to educate the uninformed and celebrate family history.
Former GHC student Gabriela Rivera found time to talk about Hispanic Heritage Month and how it relates to her personal background. A few months ago, Rivera visited Mexico City for the first time in 19 years. She got to see family and had the opportunity to experience the various wonders the city had to offer.
"I think GHC has done a pretty good job." -Pedro Zavala
This rich background aside, Rivera feels that Hispanic history and heritage was not adequately discussed during her school days, not until recently. In fact, Floyd campuses' resident Spanish Professor Mark Greger can confirm "it's a recent development." "I'm glad it's gotten bigger," Rivera said.
Hispanic Heritage Month helps to combat common misconceptions about Hispanic culture. "I think GHC has done a pretty good job," says Pedro Zavala. Zavala originally attended the college in 2012, before transferring to Georgia State in Atlanta. He is back once again, applying to Physician's Assistant programs.
"I don't know if I have a favorite holiday, but those four weeks between Thanksgiving and Christmas are my absolute favorite," Zavala said. "Just two weeks of food, warm feelings, quality family time — and life slows down, even if just for a little while. That's my favorite."