Volunteers share Bolt costume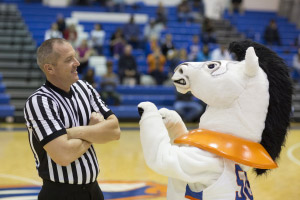 The medieval war horse. The original Charger. Spontaneous and available for your corporate and private events. These are all simple ways to describe Bolt.
Bolt is GHC's personal cheerleader for almost every sporting event. Despite the one under the mask and bodysuit keeping their vow of silence while in character, willing volunteers have the opportunity to dress up and fill his enthusiastic and outgoing persona.
In the past, John Spranza, the Director of Student Life, said, "There have been many people that have played Bolt, there is no set person. I've worn it, students have, cheerleaders, just whoever we can convince to put it on." As for this year, no one has been Bolt yet. However, there have been a couple of volunteers for the part. Although playing Bolt is about pumping up the audience of the students and staff, there is a profit for playing the part anywhere apart from Georgia Highlands events. This only permitted if approved by upper management.
For personal events the volunteer, or — when the time comes — a full time worker, charges $50 per hour for any private event. The fee is reduced to $25 per hour for nonprofit causes. Along with traveling from event to event, Bolt comes with their handler, the only person that is able to talk to the person in the costume — in a hushed tone of course.
As for the history behind the Bolt, it has only been about a decade since GHC decided to create a costume for the school's beloved mascot. There was a long search through different companies that designed and made costumes for college teams, NBA teams, NCAA, and larger universities. Spranza said, "We told them what we were looking for and then their art team and design department went to work and gave us different options to choose from. We selected the one we liked and Bolt was born."