Kindred Fire performs at DeSoto Theatre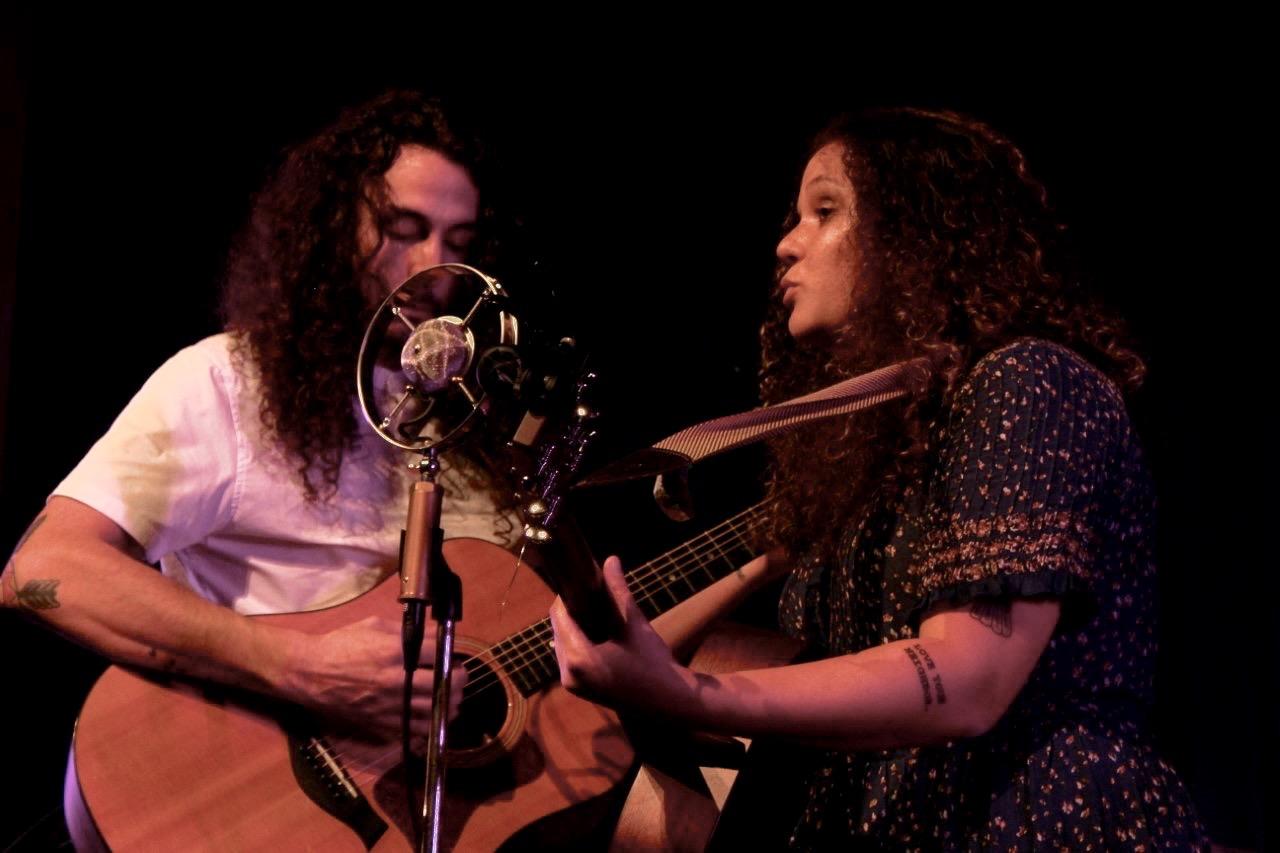 When they first met at Shorter University, she was singing Southern Gospel music and he was singing rock. Their unlikely friendship continued beyond college, through the ups and downs of individual music careers. Last weekend they played their first concert together, performing in front of a full house at Rome's historic DeSoto Theatre.
This is Kindred Fire.
Austen Earp and Haley Morgan Smith first started writing music together two years ago. They came together out of a place of shared frustration, seeking to reignite the passion they felt for their music before it became a job.
"I was done with music," Smith said. "I went through all these crazy things in my life. Austen was like, 'Let's just jam.' It was healing me but, at the same time, it was becoming my passion again."
What started with covers — "Mainly depressing '90s music," Smith confessed — evolved into writing original songs and finding a new, unique sound.
"We definitely experimented," Earp recalled. "Everything was something new."
Eventually, the band settled on their current sound, which their website calls "swamp stompin' roots rock." It's an accurate description — their first concert saw audience members clapping, stomping and singing along with the band.
The duo are joined on stage by their drummer, Luke Robinson, who Smith previously played and toured with.
The band is driven not only by their shared passion, but by a shared love of family and community. The Master of Ceremonies at their album release concert was none other than Earp's wife, Emily Earp, whom he dedicated a song to later in the set.
"We're so much better when we learn from each other and not compete against each other," Smith said.
As part of this focus on community, Kindred Fire used their album release concert to showcase other local talent. Before the concert, the DeSoto Theatre hosted the Back To My Roots art gallery, showcasing visual art from local creators, many of whom are friends and family of the band.
The night's lineup began with an unexpected performance from Russel Evans, a local actor and musician, who kicked the concert off with a mime routine.
Following Evans' performance, Lucas Smith took the stage. The 18-year-old recently graduated from Armuchee High School and is already gaining a following as a country music artist. He is quite literally part of the Kindred Fire family — he and Haley Morgan Smith are cousins.
Lucas Smith was followed by Russell Cook & the Sweet Teeth, a local Americana blues band boasting "over 100 years of combined experience."
Part of the way through Kindred Fire's set, they were joined on stage by Harley Allan, a student of Smith's, who lent her powerful vocals to one of the band's songs.
Throughout the night, Earp and Smith emphasized their focus on music as a source of power, passion, and healing — not competition.
"You're always taught to go against each other," Smith said. "It's so stupid. There's so many people who would look at me and Austen… and think we should go against each other. Where we have found freedom has been to love people and do life with people and create with people."
The members of Kindred Fire remain involved in the Rome and Northwest Georgia communities, even in their personal lives. Earp teaches private music lessons and produces other people's music, and enjoys traveling with his wife.
Robinson is a professional stylist and doting father to a two-year-old.
"My daughter is my everything," he said.
Smith is the co-founder of For Our Neighbors, a nonprofit working with schools and churches in rural areas. The organization's goal is to help leaders figure out how to work better with young people and, as Smith put it, "stop talking at them."
Kindred Fire's self-titled debut EP is available for purchase and streaming now. They can be found at kindredfiremusic.com or @kindredfiremusic on Instagram.
[slideshow_deploy id='7383′]