Warnock and Walker head to runoff election
With neither Raphael Warnock nor Herschel Walker receiving the required percentage of votes in the general election, a runoff is essential for the future of the U.S. Senate and will take place today. 
The Libertarian candidate for the Georgia Senate, Chase Walker, won more than two percent of the initial vote, causing Warnock and Walker to receive less than the required 50 percent of the vote. Therefore, a runoff election must take place. Republicans and Democrats are on edge about who will pull through in the second election.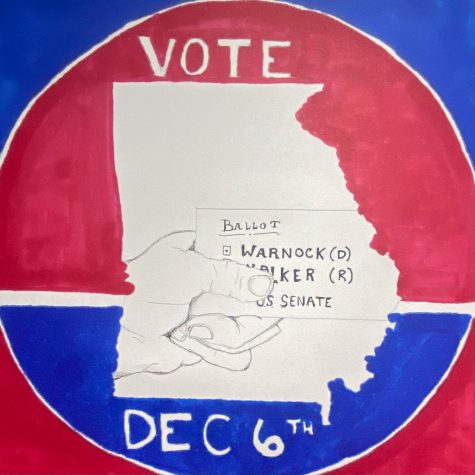 What is a runoff election and why is it necessary?  
A runoff occurs when no two candidates earn the required number of votes. The required percentage varies from state to state, but in Georgia, it is law for a primary candidate to receive at least 50 percent. The election is held between the top two candidates nine weeks after the primary election.  
Warnock received a total percentage of 49.42 percent of votes in the general election on Nov. 8.
His Republican competitor, Walker, received 48.52 percent of the votes, creating a difference of only about 35,000 votes. 
Trevor Noah, host of "The Daily Show," held an interview with Warnock discussing the Senate midterm race. The episode was originally aired on Nov. 2, six days before the midterm elections.
"This is turning into a race that is way closer than people anticipated," Noah said. 
According to Ballotpedia, "In Georgia, runoff elections are required for all congressional, state executive and state legislative elections in which a candidate does not receive a majority in the general election. The top two finishers in the general election advance to the runoff. Georgia's legislature passed a law implementing this system in the 1960s." 
The runoff will take place on Dec. 6 due to this law. 
Why is this important for students?
Millennials remain far from the largest generational block of actual voters. The Census Bureau provides voting coverages that are standard data for highlighting the demographics of voting. 
In 2016, Pew Research Center gathered data that showed Baby Boomers made up 31 percent of the votes with Millennials comprising 27 percent of the voting population. Pew reported that according to the Census Bureau November voting supplements, "for a host of reasons, young adults are less likely to vote than their older counterparts." 
However, younger generations, particularly Gen Z, are becoming informed and active in politics. 
According to Circle, "We estimate that 27 percent of youth (ages 18-29) cast a ballot in 2022, making this the midterm election with the second-highest youth voter turnout in almost three decades." 
As opposed to previous midterm elections, Changing America said, "Young voter turnout hovered around 20 percent." 
US Citizens can stay up-to-date on current politics by reading, watching and listening to news from verifiable sources. People can also get involved in political organizations in their area.
Students can join political organizations or clubs where they will have the opportunity to be active in a political learning environment. Those who live in Georgia can go to the official government website to find polling locations and to register for the next election.