Chargers survive in overtime
The men's Chargers basketball team faced off against the Andrew College Tigers Thursday night, Jan. 19, in what would be a game that would ultimately end in them hanging on to a 78-74 overtime win.
There was more on the line in this game for the Chargers than just another notch in the win or loss column, but it would put the team's record at 8-8, which was a huge milestone for Chargers head coach JJ Merritt. 
"It feels good to be back at .500, but there's still a lot of work to do… You start a season like we did and it's easy to put your head down and break apart as a team, but one thing we have stressed is keeping this thing together," Merritt said.
The Chargers started the season 2-7 before winning six of their last seven games.
Chargers guard Julian Dozier would end with nine points in the contest while Akili Evans would lead the Chargers in scoring with 16 points. Other notable Chargers scorers included Joel Pullen, with 14 points, and PJ Carter, with 15 points.
The first half of the game was a defensive battle, with neither team able to take charge, as they would trade blows back and forth. The Tigers would head into halftime with a 24-21 lead.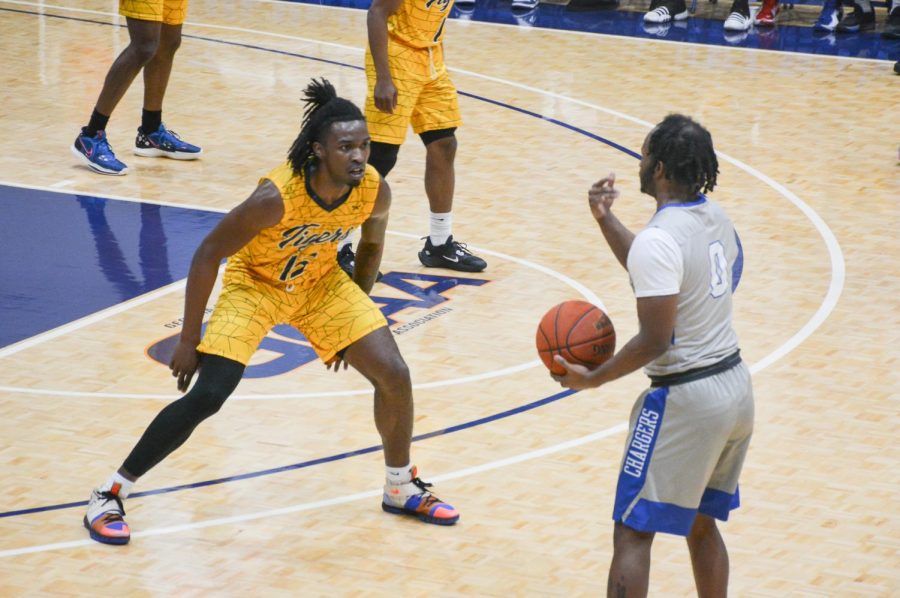 Coming out of the locker room for the second half was a different tale for both teams, as the offenses took over. The Tigers held a 9-point lead with four minutes remaining as the game was winding down.
The Chargers would pressure the Tigers defensively, leading to five turnovers in the final five minutes of the game. Chargers guard Akili Evans played a major part in that defensive run, coming away with two steals. 
"I was just doing what I could. I felt like my shot was off for most of the game and I wanted to contribute any way that I could," Evans said.
Those turnovers would propel the Charger's offense enough to take a 3-point lead with one minute left after an inbound steal by Evans led to an and-one basket on the offensive side. 
The Chargers couldn't get defensive stops with one minute remaining in regulation, resulting in an opportunity for the Tigers to tie the game with six seconds left. They would make the most of that opportunity, with Tigers guard Elliot Yorke Jr. making a 3-point attempt with .2 seconds left to take the game into overtime.
Dozier took over for the Chargers on offense in overtime, scoring seven of the team's 12 points. 
"The first 35 minutes of the game, I played pretty embarrassing and thankfully we went into overtime and I was able to prove myself," Dozier said.
Dozier and Evans were the only two Chargers players that scored in overtime.
"We've been in overtime before so we knew what we needed to do to win," Meritt said.
The Chargers will be back at home next Saturday to take on the East Georgia State Bobcats as part of a doubleheader with the women's basketball team.