Jalen Hudson fills SGA Vice President position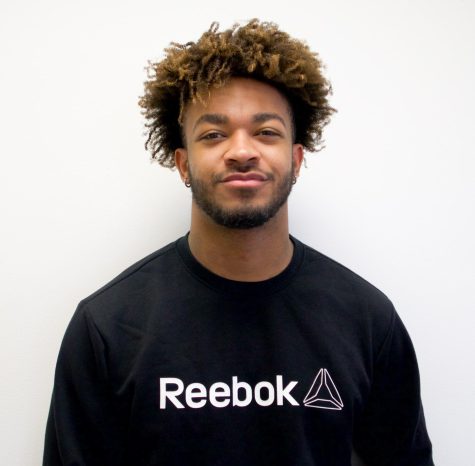 In the Feb.17 election,  Jalen Hudson was voted the new Vice President of the Student Government Association. 
Hudson has proven that he is a capable student whilst maintaining good grades with interests in pursuing a Bachelor's of Business Administration in Logistics and Supply Chain Management at GHC.
Hudson handles the responsibility of President of the Brother 2 Brother Cartersville chapter and is taking on VP of SGA as a stepping stone to becoming the SGA President. 
He is also an aspiring therapist and author who appreciates the ability to be there for others.
"I've never been shy and I feel like that has probably heightened my drive to be involved the most. Having the ability to choose the conversation to be had of something is what I appreciate getting to do when I walk in a room," Hudson said.
He agrees that there should be a direct correlation between a student's classes and the clubs they are a part of for success in school. 
"The fact that we always have a teacher or mentor on campus helps with maintaining our grades because if I'm ever overwhelmed, they're going to talk with me because my success and future is important to them," Hudson said.
Creating a campus atmosphere where students stick around instead of only attending class and leaving is all part of a bigger goal to bring more comradery to GHC. 
"Being more involved and creating friendships with your peers makes it feel like less of a task and more like an opportunity to show up for class," Hudson said.
One concept he has devised would be creating student-based activities everyone can participate in, like physical games or events where students can show off their artwork. 
"I personally would love to see a huge pillow fight in the middle of Highlands or incorporate something where students can show their art. At Cartersville, we have a hiking trail and students can use the greenery for picnics and doing things to get more involved," Hudson said.
Hudson prides himself on being someone that anyone, not just students, can talk to.
He considers these characteristics great to display when fulfilling a position of leadership: accessibility, confidence, being understanding of others and being influential. 
Biochemistry major April Cole, also sitting president of PTK and SGA, gained experience working with Hudson on the SGA committee for position changes.
"I'm so glad that [Clifton] Puckett presented Jalen because he had a lot of good insight when we were creating these new amendments and he helped fire these position changes," Cole said. 
Hudson gets to focus on staying in contact with Cole. 
"It normally depends on what the president needs. April does a great job and if she needs to delegate some of those responsibilities to me, then I'm there," he said.
"He knew what he wanted. He knew what was best for the student body based on a student's perception," Cole said. "I think it's really important to have someone that can make those decisions. Jalen is decisive, which makes him powerful in a position of leadership."
Hudson believes that students should have direct access to their constitutional rights. 
"We revised the current amendments to see if we thought they were fair and if they will make a difference," Hudson said. "It's nice to be a part of the committee because being able to have the access to say what we think is a better option, is valuable for us and the student body."
The SGA creates a liaison between the student body and administration. It handles issues such as budgeting and setting up events.
Hudson prioritizes balance and taking the time to make sure his mental health is steady. One of the ways he focuses on his mental health is by writing poetry during his downtime.
He values the importance of being accessible to his fellow SGA members and anyone involved in the clubs that he is a part of, such as B2B and the Psychology Club.
Hudson engages with other members to give them the opportunity to test their foundations, see how they think, agree, disagree and understand that the environment is one where healthy corrections can be made. 
Staff Coordinator of GHAME and Director of B2B, Evan Snelling, became familiar with the dreams and goals that Hudson has through further discussions.
"Jalen stood out to me because he always wants to engage in conversation and ask questions, which I appreciate because it showed a willingness to learn," Snelling said. "It was an excitement that I saw in Jalen that stuck with me, not to mention he is well-spoken and I knew that he would be a good representative of the initiative." 
Hudson understands the level of confidence his teachers and peers have in him and does his best to help out on each campus, which allows Snelling to put him on the agenda for tasks meant to equip him for success. 
"I am positive that he will thrive in this role and I am extremely proud of the man that he continues to become," Snelling said. 
Hudson is one of the five candidates running in the SGA Presidential election, which will take place from March 27 to 30. Students can vote online at SGA Elections on the GHC website, or in voting booths inside campus libraries.