GHC volunteers in Relay for life in Cartersville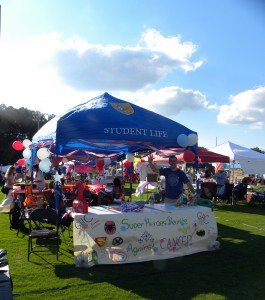 Georgia Highlands College has raised $1,600 for the cancer awareness organization Relay for Life.
The Bartow County Relay for Life was held at Dellinger Park in Cartersville Friday, Sept. 9, and continued into the next morning.
GHC contributed 29 volunteers representing PTK, Student Life, AAWCC, Green Highlands, Spanish Club, nursing students, faculty and staff.
These volunteers served with Nancy Hague in their thoughts. Hague is a professor of psychology at Georgia Highlands College and has been battling cancer.
The volunteers wore buttons with Hague's photograph on their shirts and made a poster board in her honor. Jameson Street, a former student of Hague and a volunteer, was particularly supportive in the honoring of Hague.
Hague was only one of many  being thought of that day. The race track around the field at Dellinger Park was lined with luminarias, small, white candlelit bags. These honor bags stood for those who have survived cancer or for those that are still battling.
The memorial bags represented those that have lost their lives and left loved ones behind to carry on the fight.
Each bag came with a donation of $5, which greatly contributed to the grand total raised.
Bartow County successfully produced 1,511 volunteers and 106 different teams.
As of Sept. 12, the total amount raised for Relay for Life was $247,708.29.
For more information on Relay for Life visit www.relayforlife.org.