Turkey Day Walk/Run 2012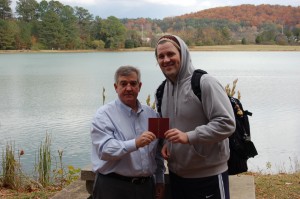 In November on the Floyd and Cartersville campus, GHC held a pair of Turkey Day Walk/Run contests. Mathew Goss, representing the Floyd men's contingency, took the Honey Baked Ham gift card for finishing closest to his estimated time on the Floyd campus. As for the women, Briana Jacks and Bekah Davis tied for the win.
In Cartersville Cameron Leonard won the 3k trophy in a photo finish with Scott Flynn, physical education instructor, right on his heels in a conventional race. They would both take home a Butterball turkey for their efforts. This was the first race on the Cartersville campus and Megan Youngblood, intramurals director for said campus, hopes to maintain this fall race for a Thanksgiving tradition.