GHC food service gets revamped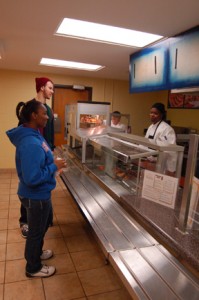 The Charger Café has changed vendors.
The previous company ended its contract with Georgia Highlands College, and Bosschi Catering and Concessions, Inc., based in Richmond, Va., began work on Jan. 7, just as most students were returning to class for the spring semester.
Rudy Battistelli, director of auxiliary services at GHC, Susann Braden, manager and head chef at the Cartersville Charger café, and Ben Stewart, executive chef at the Floyd campus, all expressed enthusiasm for the new café services.
The new Charger Café has three different meal plans that are available to students. The new cafe offers a wide variety of choices. It offers a standard menu as well as a menu that will change everyday.
Stewart said, "We also cater to specific needs such as dairy needs."
Although any special requests that students or employees make may require more time, Stewart said,"We'll be happy to take special requests. No is not an option."
Stewart added, "We prepare fresh and homemade, and try to maximize the freshness."
Most of the students who have eaten at the cafe have voiced praise for the Charger Cafe.
"I eat here pretty often and I like it. They have variety and it's affordable," said Giovanni Escobar, a student at GHC's Floyd campus.
Braden said, "We take customer service very seriously."
Braden added, "We also cater on campus, community civic groups, fundraisers and business meetings."