Enrollment climbs at Douglasville
By C. Orzechowski
September 27, 2011
"The number of students at the Douglasville campus has increased by over 100 this fall semester," said Lyric Burnett, student life coordinator. There are now approximately 360 students enrolled this semester.
Recruiter Julia Areh is focusing on high schools around the county. "She helps promote our campus and spread the word about GHC since our campus is so new," said Burnett.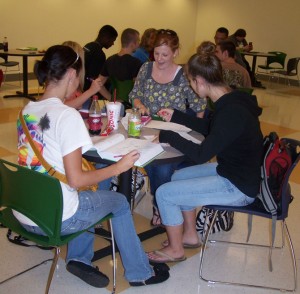 The Douglasville campus safety officer, Addison Barry, says with the increase in students, there have been surprisingly very few issues. "Parking is an issue on all campuses, but the students here have been very cooperative," said Barry.
Second-year nursing student Kim Guyton said, "The class size has gone up by about ten students per class."
She would also like to see more student clubs and organization opportunities at the Douglasville campus since student enrollment is growing.
Third semester student Joaquin David Menjivar-Couch has noticed more student involvement in the clubs he is part of.
"I have noticed more students attending meetings and activities, especially in Brother to Brother. More students are participating, which means clubs are growing," said Couch.