Students Without Borders explored new cultures with their third annual trip to the Atlanta Greek Festival on Oct. 4.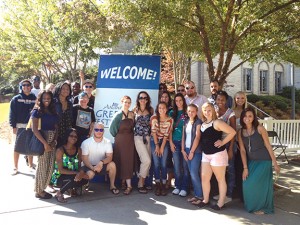 A total of 24 students representing the Rome, Cartersville and Paulding campuses were in attendance, according to Alexandra MacMurdo, one of the club's advisers.
The event was held at the Atlanta Greek Orthodox Cathedral off of Clairmont Road. Students enjoyed authentic Greek cuisine as well as traditional Grecian entertainment.
Meals included gyros (lamb served in a pita with onions, tomatoes and tzatziki sauce) as well as baklava (a dessert pastry with crushed nuts, honey and cinnamon).
Entertainment included a tour of the cathedral as well as Greek music and dancing. Students were also treated to a Greek bazaar filled with vendors and a Greek bakery where students could purchase delicious pastries to take home.
The attendance of the event was and was led by three Students Without Borders Faculty Advisors: MacMurdo, lecturer of communication; Bronson Long, associate professor of history; and Jayme Feagin, assistant professor of history. GHC Librarian Stacy Brown of Cartersville Campus also attended.