Breast Cancer Awareness event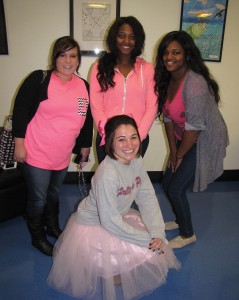 Douglasville students were encouraged Oct. 9 to wear pink in support of breast cancer awareness.
The event offered pink ribbons, educational games and prizes to students that attended.
Many students got involved by wearing pink, and some even got creative. Brooke Smith, Douglasville student, made a pink tutu to show her support and school spirit.
The GHC Human Services Club sponsored a "Pink-Out" event to raise awareness on the Floyd campus.
The national campaign, now in its 25th year, was established to educate the public and lead to earlier detection of breast cancer. The breast cancer awareness event is also a means to promote health advocacy, lobby for better care, raise money and empower patients.
Students can find out more about early detection and how to get involved at NBCAM.org.