Joe Samuel Starnes discusses his book 'Fall Line' at GHC's Floyd campus
Author Joe Samuel Starnes spoke to an audience of about 80 people at the Georgia Highlands Floyd campus Nov. 14.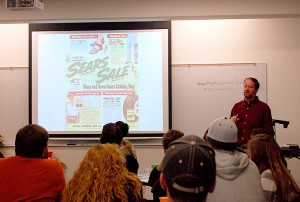 He discussed his book "Fall Line," from what he researched to how he conducted his search for information. Starnes also talked about how he overcame his writers' block. After reading from his novel, he answered questions from the audience.
Starnes grew up in Cedartown and attended summer classes at GHC. His mother was part of the original faculty when GHC was known as Floyd Junior College. He is now living in New Jersey and helping to edit the alumni magazine at Widener College while also working on a new book about a Georgia sheriff who ends up in New Jersey.
Starnes' visit was sponsored by the humanities division, the Library, and the Office of Student Life. The Floyd campus bookstore has copies of Starnes novel for sale.