GHC's new 3-D printer allows students to bring their ideas to life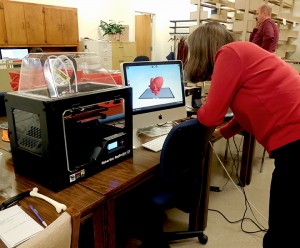 Thanks to Doug Ingenthron, the president and general manager of Brugg Wire Rope, LLC, the Floyd campus library now has a 3-D printer. Ingenthron donated $1,500 to help Georgia Highlands purchase the MakerBot Replicator 2X experimental 3-D printer.
Elijah Scott, the director of libraries, believes the printer will be an excellent marketing tool for recruiting students to GHC. Scott said, "To the best of my knowledge, GHC will be the only library in the University System of Georgia that has a 3-D printer that will be available for all students, faculty, staff and to the community to use for free."
Instead of ink, the 3-D printer uses ABS plastic filament. The material comes in several different colors and resembles weed- eater line. As the
filament is fed through, the printer heats it up and melts it down, similar to a hot glue gun. The two filament nozzles work together to make three dimensional figures one layer at a time.
The 3-D printer resembles a microwave oven. Once the printer reaches the required temperature, the platform inside the printer rises to the top and the filament is laid down. Once the print job is completed, the platform is lowered and the object can be removed from the printer.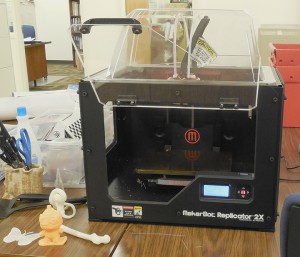 There are different ways to create models with the 3-D printer. Students can place an object on the MakerBot Digitizer, and the item will be scanned from every angle. Once scanned completely, the object can be edited, cropped and scaled.
Students can even download designs and blueprints from MakerBot's website, Thingiverse. Scott stated, "Anything students create using CAD, computer-aided design, can be printed with the 3-D printer."
Another attribute of the printer is that the models can have movable parts. For instance, a 3-D butterfly can actually have movable wings.
Jeannie Blakely, assistant librarian for technical services, believes the printer offers great potential. With anyone being able to use the printer, instructors can come up with assignments for students involving the 3-D printer. Blakely said, "For example, nursing students can potentially print out an organ, examine it and figure out what the defects might be."
The 3-D printer is expected to be up and running in the next few weeks. GHC is planning to have a premiere event for the library's new addition, so be on the lookout for the announcement and make sure to stop by and check it out.